What is the best laptop for recording, whether for music or voice? It's a question we get fairly often, but we don't even hesitate with our answer: get a Macbook. Apple continues to ride high on its popularity, but picking a MacBook is so much more than a trendy choice. These sleek and powerful machines are perfect for the mobile recording artist (or anyone looking to record, really). Let's take a look at why.
Why is the MacBook So Popular?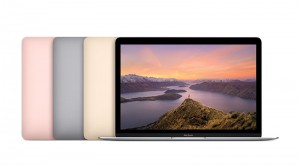 Apple is known for superior design and quality, but they don't get enough love for what's inside. MacBooks, across the product line, are lightweight and powerful. With each new product update, Apple finds a way to pack more battery life and processor speed into an increasingly smaller package. Flash storage, Retina displays and more of the latest technologies keep pushing the limits of what defines a MacBook. Apple has even taken a page from it's iPhone success by offering the latest MacBook in colors to match your personality: silver, gold, space gray or rose gold.
Top-rate Customer Service and a Solid Warranty
Apple is known for its quality, but everyone needs a little help sometimes. Apple's support forums are easy to navigate, and we tend to find most of our answers there. And if you need more advanced help, the Apple support team is consistently rated at the top of the pack. Every MacBook comes with a one-year limited warranty, as well as 90 days of telephone technical support. Of course, we recommend an added piece of mind with the AppleCare Protection Plan, which extends support to three years from the date of purchase. We've rarely had to use it, but it sure is nice to have when you do.
A MacBook for the Budget-Minded Home Recording Enthusiast?
It's easy to look at the list price for a MacBook and start to think twice. But do your homework. When you look at Windows-based laptops with comparable specs, the prices aren't really that different. And when you start factoring in added software and upgrades, the MacBook keeps looking better and better. Not only do you get plenty of apps for free (including the productivity apps of Pages, Numbers, and Keynote), but you also get GarageBand. This isn't some stripped down four-track app…GarageBand can handle most needs of the home musician. So, right out of the box, you're ready to make some music. (Well, you'll want some kind of guitar or microphone interface, but that's another story.)
Even though we think the MacBook is a bargain at list price, that doesn't mean you can't do better with the bottom line. First, just look around to see who is having sales. Apple seems to keep a pretty tight hold on pricing for its newest models, but you can still find a good sale if you keep your eyes open. Be sure to look online as well as in brick-and-mortar stores, and check to see if your store offers price-matching. Also, take advantage of any rebates that are being offered, and look for any other discounts that you can find in order to save money.
When a new MacBook model is released, you can often get great savings by purchasing the previous model. Unless the new model has something you just can't live without, you'll probably find it hard to pass up the closeout discounts.
Finally, if you are in school or work in education, you can also get special pricing from Apple.
The Best Laptop for Recording is More than One Laptop
We've been pouring it on about the MacBook, but which MacBook is right for you? For example, the MacBook Pro will offer you more power and a Retina display, while the MacBook Air will provide great battery life in a super-thin package. Each have their own strengths, and with each product update the similarities grow. Check out the specifications of each below to see which is the perfect match for your needs.
Your MacBook is Waiting for You
The bottom line is that, for the best laptop for recording music and voice, you can't beat the MacBook. Which MacBook you choose will depend on your priorities (such as size, power, display, or price), but it's hard to go wrong with any member of the MacBook family. Add one to the mix in your home recording studio and you'll see why we call this the best laptop for recording.